Fulton County Domestic Violence Lawyer
Defending Against Domestic Violence Charges in Alpharetta and Johns Creek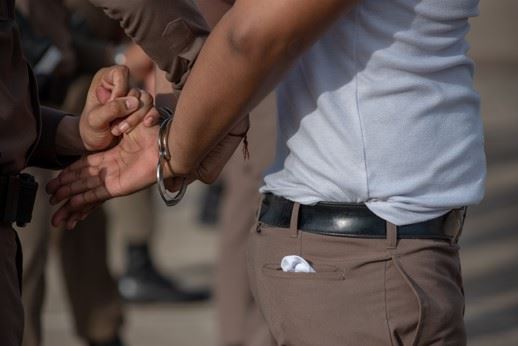 Family and household members, as well as others with an intimate relationships, are protected in Georgia under domestic violence laws. Battery and other domestic offenses are penalized more severely when committed in a domestic situation as opposed to other circumstances.
However, accusations of domestic violence can be based on weak and often unsubstantiated accounts from individuals through exaggeration, misleading information, and falsehoods. Often these situations arise when a marriage or relationship breaks down, in a child custody battle, or another domestic situation wherein one party wishes to penalize the other.
Are you facing a domestic violence charge? Call Houston Washburn Law today at (770) 766-8966 or contact us online to schedule a consultation with our domestic violence attorney in Fulton County.
Why Hire Houston Washburn Law
If you or someone you know has been charged with a family violence offense in or around Fulton County, you should not hesitate to retain the services of a committed and knowledgeable criminal defense attorney. Your best asset for fighting back, protecting your reputation, your freedom, and your future is a legal advocate with a proven track record.
At Houston Washburn Law, you can bring your case to a third-generation attorney who has been named a Top 40 under 40 trial attorney by the National Trial Lawyers. Our domestic violence defense lawyer brings dedication, knowledge, and skill to your domestic violence defense case throughout all phases of the legal process.
Georgia Domestic Violence Laws
Family violence is a catchall phrase that covers a variety of offenses aimed at a household member, family member, someone with whom you have a child, or someone you previously lived with. It includes parents and children, stepparents and stepchildren, and foster children and foster parents.
Family violence offenses can include:
Assault or simple assault

Stalking and aggravated stalking

Criminal damage to the other party's property

Criminal trespassing

Unlawful restraint

Any other crime committed against a current or former household/family member
What Is Family Violence Battery?
Family violence battery refers to the offense of intentionally causing "substantial physical harm or visible bodily harm" to the alleged victim. It is charged as a misdemeanor punished by up to a year in jail and a fine of up to $1,000. A second conviction of such a crime is charged as a felony and carries a prison term of one to five years.
Domestic Violence Arrest Process
Understanding the domestic violence arrest process can help you protect your own rights and give you more clarity about what to expect as you begin to fight these charges. If you are arrested for domestic violence, you can expect the arrest process to look something like this:
You'll be taken to the police station for booking, where the police will take your photo and fingerprints for your record; they may also collect a DNA sample from you if you are being charged with a felony (Ga. Code § 35-3-160).
A detective may attempt to conduct an interview with you about the situation leading to the arrest; you do not need to answer any of their questions, and you may request a lawyer at this time.
Before answering any questions, you may request to call your attorney, as well as a family member, to notify them of your arrest.
It's important that you have your defense attorney present for any interviews with the police; this is to ensure that your rights are protected.
What Happens After a Domestic Violence Arrest?
After you are booked and have undergone your first interview with the detective (with your attorney at your side), you may be moved to a different holding facility, depending on the nature of your charges. At this point, a court date will also be set for your hearing (no later than 48 hours after you are arrested). At this hearing, the judge will inform you of what charges are being brought against you and will set bail (if applicable). From there, the rest of the proceedings will depend largely on what charges you are facing. Attorney Houston Washburn can help you with the defense process.
Domestic Violence Charges in Georgia
Along with criminal penalties, you will likely be subjected to a protective order (restraining order) that prohibits you from making any kind of contact with the accused. Such an order can force you to leave your home, can award child custody to your accuser, force you to provide housing and child support for your accuser and any children involved, order you to take part in counseling, and pay for your accuser's court costs and attorney fees. Violation of such an order is also a criminal offense carrying up to a year in jail and/or a fine of up to $1,000. Criminal penalties for any domestic violence crime can include the following:
Jail time
Fines
Mandatory Completion of a Batterer's Program
Or other Court-Ordered Programs
Is Domestic Violence a Felony in Georgia?
Domestic violence is usually a misdemeanor, but any subsequent convictions are considered felonies. A non-domestic battery is only a felony when the person has 2 or more prior convictions for batteries committed against the same person. A parent can also lose their parental rights if convicted of a domestic violence charge.
How Long Does Domestic Violence Conviction Stay on Your Record in Georgia?
A domestic battery conviction will stay on your record for the rest of your life. If you were charged with the crime, but you were never convicted of it, then you can get it expunged or sealed by the court. The domestic violence charge will also stay on your criminal record for the rest of your life unless you get it expunged or sealed.
Contact Our Domestic Violence Lawyer Today
Any domestic violence conviction can have devastating effects on your life, your reputation, your finances, and your future. It will leave you with a permanent criminal record easily discovered on a routine background check. It is also a deportable offense for non-citizens. Keeping your record clean is vital and can only be done with a legal advocate who knows how to handle these types of cases. Our domestic violence defense attorney stands ready to help you with thorough and committed legal representation.
Additional Reading:
Contact Houston Washburn Law today to get started on your defense with our Fulton County domestic violence lawyer!